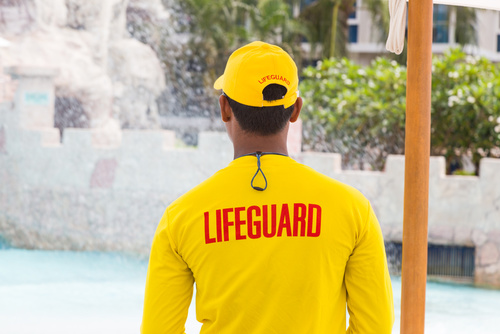 Learn first aid and how to become a lifeguard.
At Aquatics Academy, our advanced swim courses are in-depth and comprehensive. With expert training and instruction, every course participant is well prepared for certification. Our team of instructors is hand picked, based on skill, experience, and accreditation.
Under the regulations of the Canadian Lifesaving Society, Aquatics Academy offers the full range of recognized medal programs and accredited first aid training. Participants can choose from a wide range of training/courses.
Aquatics Academy can recommend a suitable training protocol depending on candidate goals and aspirations. First aid training is available to non-aquatic candidates.
Canadian Swim Patrol Program
The Canadian Swim Patrol Program is the starting point to lifeguard training. The program has three levels (Rookie, Ranger, Star) and focuses on swim stroke development, thus providing the skills foundation that's necessary to move forward, step-by-step, to the medal-level awards. Rescues and First Aid knowledge is introduced in this program, which builds a strong basis for the Bronze certificates.
Lifesaving Society - Bronze Star
The Bronze Star is the preparation level for eventual success in the Bronze Medallion. This is where participants enhance their problem-solving skills and decision-making skills. Candidates also learn CPR and start developing lifesaving skills (in preparation for lifeguard duties). The Bronze Star certificate is a pre-requisite to Bronze Medallion only if the candidate is under the age of 13 years old. If the candidate is over 13yrs, this certificate is not required.
Lifesaving Society - Bronze medallion
The Bronze Medallion course teaches lifesaving principles based on the 4 components of water-rescue: judgment – knowledge - skill - fitness. Participants will learn all of the relevant skills for challenging rescue incidents, including high-risk situations with conscious/unconscious victims. Emergency First Aid & CPR B is taught along with the Bronze Medallion certificate that teaches candidates all about: Stroke, Heart Attack, Angina, external bleeding and other heath complications. These health conditions will then be applied to the pool setting, where Bronze Medallion candidates learn how to recognize these victims in the pool, how to retrieve, remove and ultimately treat/care for them.
Lifesaving Society - Bronze Cross
The Bronze Cross is designed for those who want be challenged with more advanced training. The course includes an introduction to supervision in an aquatic facility. The Bronze Cross is an essential prerequisite for advanced programs (National Lifeguard and Instructor Certification).
Lifesaving Society - National Lifeguard
National Lifeguard training is considered ongoing training – always keeping skills, knowledge, and fitness levels at peak. With the National Lifeguard certificate, candidates are now lifeguards! This certificate is recognized and honoured across Canada. Candidates learn how to communicate with their fellow team members, rescue patrons from an aquatic environment (pool and waterfront), learn how to handle victims who are submerged under the water, and those who may have a suspected head and/or spinal injuries. Standard First Aid/CPR C certificate is a pre-requisite to this certificate.
CPR certifications and First Aid certifications must be kept up-to-date. More advanced training may include the use of oxygen or special equipment like defibrillators.
Emergency CPR B and CPR C Training
CPR-B training is designed for parents, grandparents, and childcare workers. The course focuses on choking procedures, early defibrillation, and use of an Automated External Defibrillator. The
CPR-C course teaches full CPR (adult, child, infant) along with Automated External Defibrillator.
Emergency First Aid with the Lifesaving Society
Emergency First Aid is for anyone who wants to learn about first aid principles and treatments for emergency injuries. Instruction includes CPR administration; wounds/burns; external bleeding and heart attack. This course is acknowledged by Ontario's Workplace Safety & Insurance Board.
Standard First Aid with the Lifesaving Society
Standard First Aid covers all of the elements of CRP and first aid (Cardiopulmonary Resuscitation). Standard First Aid incorporates Emergency First Aid and include more comprehensive aspects: legal implications; spinal injuries; heat and/or cold injuries; bone/joint injuries; emergencies.
Water Safety Instructor Course (WSI)
The Water Saftey Instructor Course prepares candidates to instruct the Water Safety Programs. Candidates experience, analyze and apply the Red Cross program curriculum. The principles of injury prevention, inclusion and, progressive learning. Candidates must be 15 years old and have completed Broze Cross to register in this course.