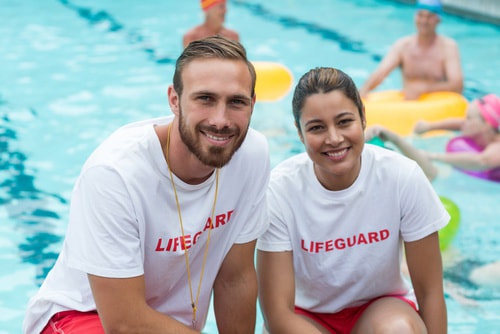 Lifeguards from Aquatics Academy
If you're hosting a private party, or a family get-together and planning to use your swimming pool, a private lifeguard will make it all safe. Our lifeguards provide a stress-free day or evening for everyone while allowing the host or hostess to enjoy themselves without having to worry.
When you hire a lifeguard from Aquatics Academy, you can rest assured that your pool is fully monitored the entire time. Our lifeguards are trained and certified, arriving at your home or cottage fully equipped. Their professional attention will prevent accidents and ensure safety.
Whether it's a few swimmers or a few dozen, our lifeguards are available for everything from a birthday party, to a summer barbecue, to a big wedding. The idea, of course, is to provide a sense of security so that there's plenty of time to enjoy the event - a completely stress-free experience.
Hiring a personal lifeguard from Aquatics Academy
Our lifeguards are National Lifeguard Certified and are available for your home or for an event location that you choose. Our lifeguards bring all their own equipment and gear so that nothing is overlooked. They inspect the premises, identify any problems, and check available equipment.
As a rule, Aquatics Academy requires one lifeguard for every 20 guests that are in the pool area. Additional swimmers beyond the 20 will require another lifeguard. This is designed to ensure maximum safety for everyone. Our lifeguards are on duty even if no one is swimming in the pool.
Rules and safety guidelines even in your own pool
While our lifeguards realize that your pool is your property, there are still safety guidelines and pool rules that we operate under. These are intended to provide maximum pool safety.
NO running around the pool deck
NO diving into the swimming pool
NO rough play or trouble-making
NO inflatable devices in the pool
ONLY official life jackets allowed
No built-in "floaty" bathing suits
ALWAYS listen to the lifeguard
Children who are non-swimmers must wear approved life jackets when inside the pool, and must stay in the shallow end, while accompanied by an adult. Diapers must be worn where applicable.
At Aquatics Academy, our staff has been handpicked. They are skilled and experienced in everything they do. Our team is accredited by the Lifesaving Society and the Canadian Red Cross.
Aquatics Academy has much more to offer families
Aquatics Academy offers a wide selection of swimming classes and lessons for the whole family. We have a low student/instructor ratio that allows for individual attention and plenty of time to develop skills. Our three locations make it convenient for families throughout the GTA. Swimming at Aquatics Academy is fun for everyone – from beginners to advanced, to those in training. We also provide swimming lessons and personalized instruction in your own home or condo pool.
PRICING
1 lifeguard
$50/hr
We send National Lifeguard Certified (NL) lifeguards to your home or event location.
2 lifeguard
$85/hr
We bring all our own gear and equipment, so all you have to do is relax and have fun.
(2-hour min required for booking)
(We require one guard for every 20 guests in the pool area to ensure maximum safety at your event. Any additional swimmers over 20 will require an additional lifeguard).
Service Area includes: Toronto, Vaughan, Markham, Richmond Hill, King, Aurora, Newmarket, Stouffville
($45 travel fee will be required for service in the GTA outside of our service area)